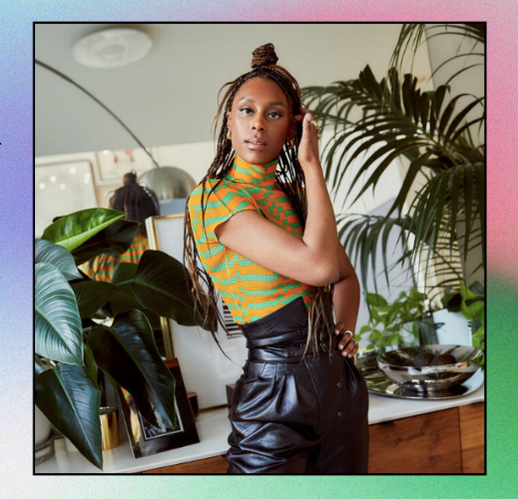 The Podcasts Talking BIPOC Beauty
Get your beauty news from these industry-changing hosts.
(Originally published on Beautyocracy.com, June 2022)
Finding relevant beauty information for specific needs can be like finding a needle in a haystack. There is an abundance of brands, blogs, and retailers constantly shelling out education and the latest news, but sorting through these offerings trying to find what pertains to Black and brown bodies can be a full-time job. It's incredibly rare to find resources that are up-to-date and that specifically speak to the needs of people of color within the context of trends, but with the popularity of podcasts on the rise, it's quickly becoming less of a struggle. Choosing the right podcast with the perfect host and subject matter can be the best way to get need-to-know beauty news popping up on your phone – like a pocket educator and best friend in one. Here's a roundup of top podcasts that have been gaining attention for in-depth interviews with industry-changing founders, sparking conversations that were previously taboo, and talking about BIPOC beauty needs – from skin to makeup to hair.
BeautyMe by Charisse Kenion
BeautyMe is the creation of multitalented beauty writer and photographer Charisse Kenion, who decided to form a space for discussing the interwoven reality of beauty, wellness, and societal change. Combining topics that wouldn't typically be present on the same show, BeautyMe has recently covered the significance of NFTs, pivoting a beauty business during a pandemic, and beauty trends in tech. The podcast explores many unpredictable aspects of what it currently means to be human, like navigating burnout, the benefits of learning mindfulness and meditation, and sorting through skincare empties as a form of reflection. It's a must-listen for grounding an interest in beauty in reality and understanding that everything is connected.
The Naked Beauty Podcast by Brooke DeVard
Having recently celebrated their fifth anniversary, The Naked Beauty Podcast has covered such a wide range of topics that it's near impossible to summarize how they've transformed the beauty industry. With almost weekly episodes, host Brooke DeVard has managed to cover skincare, makeup, and hair care, but also bridges the gap with wellness topics like sexual health, pregnancy, and self-esteem. The podcast is a catch-all and cure-all for many beauty curiosities, making it a no-brainer subscription for anyone looking for regular insight into the latest trends, but also wanting to learn how to incorporate it into their own experience. Along the way, there are also compilation and Q+A episodes to make sure no topics or hard-pressed questions fall through the cracks, showing the podcast's commitment to being an invaluable and interactive resource for staying on top of beauty news and education.
Hello Beauty by Joyce Platon
The Hello Beauty podcast takes an integrative approach to discussing beauty by bringing in a variety of experts, including doctors, supermodels, brand founders, and travel writers. Such a wide selection of experience and insight makes for captivating conversations around beauty that covers the needs of the whole person. Beauty conversation has been shifting in recent years to approach harder to talk about subjects, and Hello Beauty doesn't shy away from this demand. Some examples of challenging themes include fertility, oral care, racist makeup trends, and the effects of climate change on the skin – anything and everything is up for discussion. Tune in to learn something new and possibly redefine your perspective on what falls under the category of beauty.
Black Hair Care, No Chaser by Kanisha Tillman
Recent episodes like "The Bad Fat Black Girl That Became My New Best Friend" and "All Skinfolk Aint Kinfolk" are just a taste of how Black Hair Care, No Chaser chooses to explore beauty, science, and Black hair care from a unique perspective. Host Kanisha Tillman opens up about her frustrations with downplaying racism, the beauty of hair care expressed through poetry, and the challenges of teens approaching their hair care for the first time. With episodes that range from two to twenty-nine minutes, this is a subscription for fast and entertaining bits on useful hair care info and social commentary.
The Hue Report by Olivia Hancock
The Hue Report releases biweekly to monthly in-depth and intimate interviews with founders in the beauty space. With topics like "Creating a Luxury Skincare Experience for Black Women" and "Being a Black Hair Care and Beauty Pioneer," the show is clearly committed to asking questions that typically get ignored, like how founders of color have struggled to fulfill their vision, and what motivated them to create something for people who look like them. The Hue Report has an impressive roster of interviews, including founders from brands such as KLUR, LYS Beauty, and Carol's Daughter, and also features other beauty professionals like makeup artists and salon owners. If you're a beauty fan and in awe of BIPOC founders, you'll want to listen to all of the episodes.
Beauty education that arrives conveniently on your phone is one of the best ways to stay on top of rapidly changing trends and social commentary. There's now a desire to cover beauty as a multidimensional topic and from a perspective that considers what it means to experience beauty as a whole, and top podcasts are answering that call. The transition of beauty news from being found on traditional, non-inclusive platforms to being accessible and interactive is life-changing, and the voices of women of color being broadcast far and wide is a cause for celebration.