(Originally published in Dress To Kill Magazine, February 2020)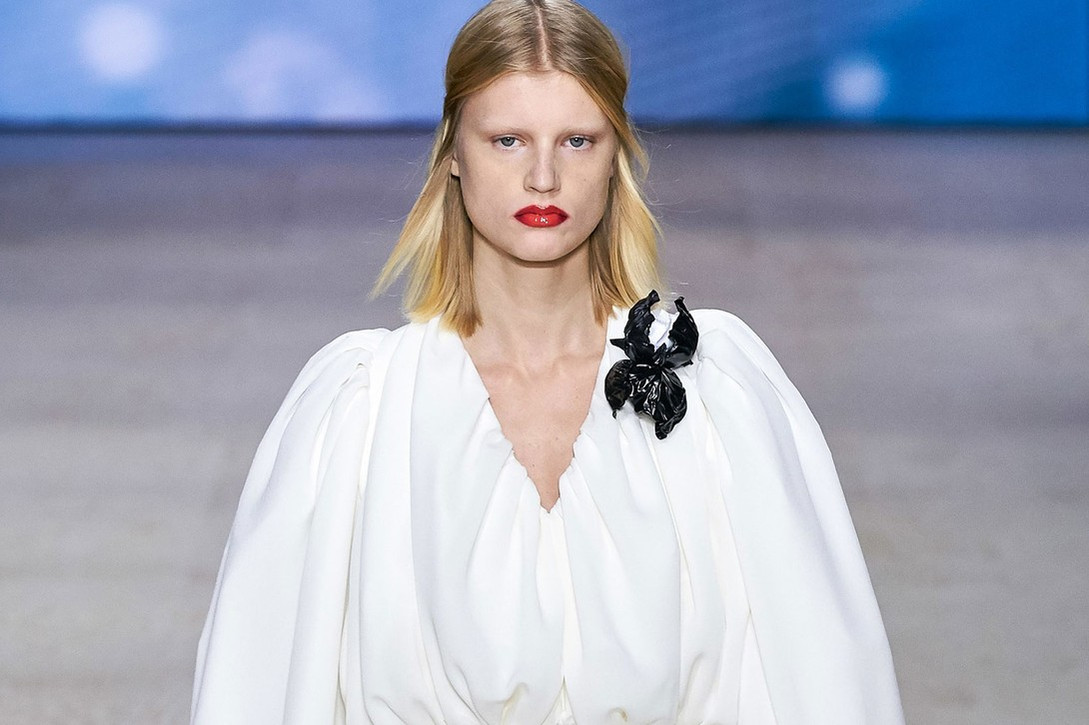 (A bold and rough around the edges, glossy lip stole the show at Louis Vuitton.)
A long-term, liquid matte fixation (pun intended) has left many lips parched and crying for a change, inevitably leading to beauty trends jumping to the other end of the spectrum. Innovative oils, balms, stains and glosses are swiftly infiltrating makeup bags and runways, offering a modern look and experience that screams effortless but fashion-forward. Countering the Botox-esque feel of a traditional, infinite-hour wear lipstick, these new formulations are upping the game with added lip-care benefits, sleek design and ease of use, making flexible consistencies and a glossy sheen much more than a throwback.
(An effortless, gloss-topped lip stain created a fun and bohemian feel at Chanel.)
Over the last decade, the common lip aesthetic has been largely unchanging. A tendency towards flat, matte and overdrawn - a technique instilled by the Kardashians and influencers-of-the-world - managed to become the default, resulting in years of lip monotony. Many of us have been guilty of clinging to one-dimensional colours that won't budge for a week unless provoked with an oil cleanser, but the craving for a liberated and more laissez-faire approach to lips is finally gaining momentum. This less formal outlook is now ever-present on runways, in magazines and showing up in major makeup launches, proving that the casual and undone lip is back.
(Left to Right: Seen at Anna Sui, Burberry and Tom Ford: An undone, barely-there lip was paired with anything from no-makeup-makeup to a smoky eye.)
Balms, oils and glosses, in particular, are making a massive appearance and can be seen incorporated into countless looks on spring/summer runways. A barely-there layer of balm that accentuates natural lip shape, tone and texture dominated faces at top fashion houses like Tom Ford, Burberry and Anna Sui. Clear gloss was a coveted go-to, worn alone or layered and used as a way to deconstruct the fixed lip of the past. And full-on, perfectly imperfect opaque lacquers could be seen in glamour-focused, ready-to-wear collections like Louis Vuitton and Sies Marjan.
The comfort factor and multidimensional level of plumping power of these products makes them a no-brainer addition to any makeup routine. Plus, they possess an updated feel unlike the liner and gloss combos of the 90s and 2000s. Modern advances like catered-to-your-lips applicators, anything from dew-like to opaque finishes, and radiance that no matte lipstick could provide make this line-up a step above the OG lip shines of previous decades. These contemporary essentials are clearly leading the way in transforming the lip vibe and makeup trends for the decade ahead.
Charlotte Tilbury Collagen Lip Bath
This collagen-infused gloss has a unique, heart-shaped applicator that glides over the natural contours of the lip, making it a breeze to achieve Tilbury's signature, sexy pout. It comes in four nude shades that can polish-off a look on their own or be layered over liner or lipstick for more intense colour. Pearlescent pigments and hydrating oils create a smooth, blurred and plumped appearance that's suitable for any skin tone, which means this IRL lip filter is truly what social media and red carpet dreams are made of.
Available at Holt Renfrew, $43
Kosas Wet Lip Oil Gloss
Lip oils are an unexpected rendition of a classic gloss and are becoming more present and in-demand. Bridging the gap between skincare and makeup, the Kosas Wet Lip Oil Gloss adds a vibrant wash of colour and has an extra-juicy and fluid feel. This Gen Z fave passes as a luxury lip treatment by including popular skin nutrients like hyaluronic acid, peptides and shea butter, but also takes the seriousness out of day-to-day makeup application, which is the definition of refreshing.
Available at The Detox Market, $36
Marc Jacobs Beauty Enamored Hi-Shine Lip Lacquer Lipgloss
The award for peak pigment, opacity and glamour goes to Marc Jacobs. In an extra-chic tube, this gloss glides on, hydrates and leaves behind noticeable colour. It comes in an astounding thirty-five shades and is a certified lipstick replacement. With just enough impact and long-wear to justify switching to the gloss side of things, it's the embodiment of the latest trends. Choose from "high shine" and "shimmer" finishes in anywhere from a nude to neon shade, and diversify your daily gloss ritual.
Available at Sephora, $38
Fitglow Lip Colour Serum
The Fitglow Lip Colour Serum has quickly gained cult status amongst clean beauty lovers, and with good reason. The rich consistency lacks tack and provides long-lasting and nourishing hydration. Organic pomegranate sterols, vegetable collagen and phospholipids make this formula genuinely innovative and shows that the skincare explosion is trickling into makeup products, in the best way possible. The Lip Colour Serum comes in an ever-expanding range, featuring sixteen staple shades and seasonal limited edition colours to entice die-hard fans on a regular basis.
Available at Fitglow, $48
La Mer The Lip Volumizer
Skincare powerhouse, La Mer, created a one-of-a-kind lip treatment using a proprietary blend of actives called Miracle Broth™. This ultra-smooth formulation is geared towards minimizing fine lines and texture, resulting in fuller and more comfortable lips. Wear it alone or layer under your favourite lipstick to encourage cell renewal. Or, better yet, keep it bedside for an intensive form of overnight protection and care. You'll wake up feeling like your lips have been to the spa.
Available at Sephora, $95