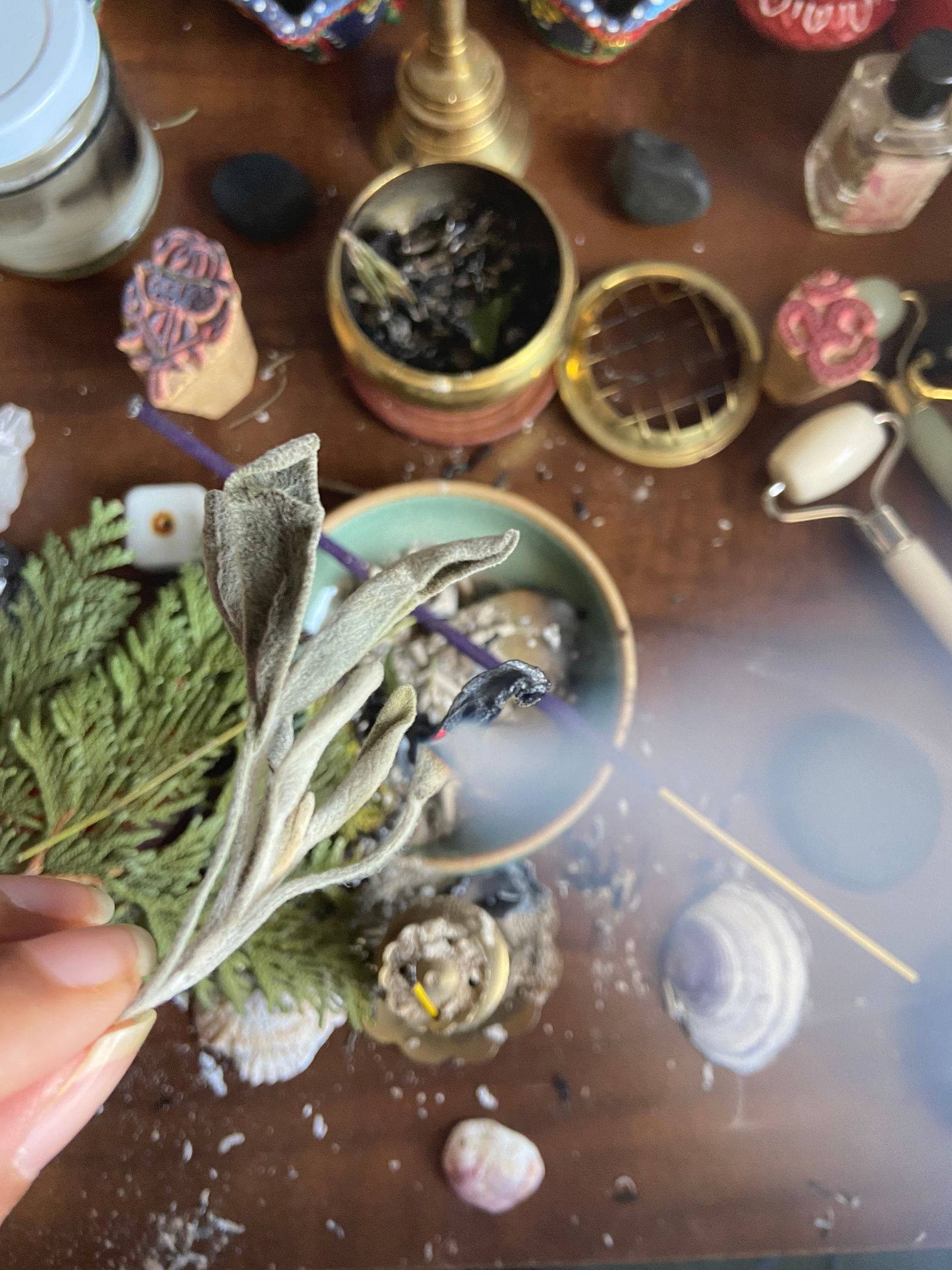 Scent and smoke have increased in popularity, resulting in there being a beautiful range of options available in decadent packaging and interesting blends. I indulge in these, but can find a lot of incense to be expensive and I go through them fast. Other challenges are the issues of cultural and spiritual appropriation and sustainability concerns due to wildcrafting and over harvesting. Two of the plants most talked about when acknowledging appropriation and environmental neglect are white sage and palo santo, but the above concerns can apply widely when taking the time to consider the demands of commercial trends and how they can impede on traditional practices, communities and ecosystems when it comes to any plant.
As an alternative, I've been enjoying a mindful and intuitive approach to incense. Finding materials and inspiration along the way, and using it as a way to decrease food and yard waste. I admittedly love fire and smoke, and might partake in this a little too much, but I wanted to pass on some suggestions for creating experiences with scent and cleansing. Whether you have spiritual uses, want to refresh the energy in your home, or simply want to experience something that smells good, there are many options that are easy to access.
Culinary herbs make excellent incense.
There's nothing worse than buying one of those wasteful plastic packets of culinary herbs, using a couple sprigs of something and then watching the rest go extinct in the back of the fridge. If you know that it's highly unlikely that you'll be using the rest before it goes bad, take the initiative to wash and lay it out on the table to dry. Dried herbs can be stored for later use, crushed into a powder, or, you guessed it, burned as incense.
My favourite ones:
Rosemary
Common Sage
Curry Leaves
Thyme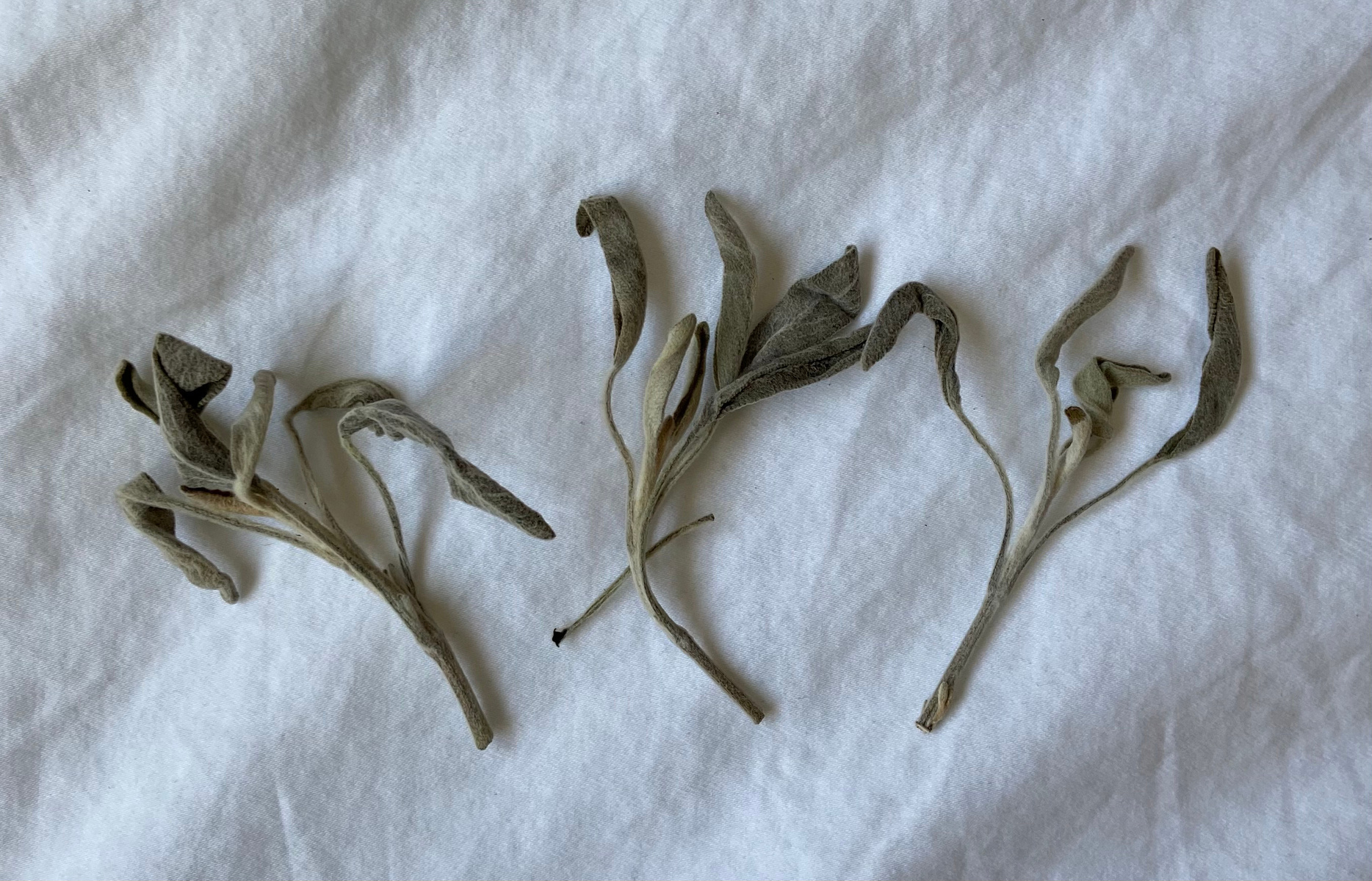 Some safety precautions and things to consider.
1. Ventilation is ideal. Crack a window to allow air to circulate. From a spiritual perspective, cleansing and trapping all of the air in the space doesn't exactly make sense.
2. Different plants will combust in different ways. Be mindful when experimenting. Keep fingers away from where you're lighting, blow out the flame and have a fire and heat safe dish to drop it into.
3. Some plants will burn like a literal incense stick, going out after a few minutes and then needing to be relit. Others will need to be crumbled on top of a piece of burning charcoal (once again, in a heat and fire safe dish sitting on a heat tolerant surface). Charcoal pucks are sold at many stores that carry cultural incense.
If the idea of lighting something unfamiliar on fire makes you nervous, but you still want to experience it, consider experimenting outdoors. Herbs can be added to fire pits and campfires for a communal experience, or to mark the transition into seasons and harvesting events.
A way to feel better.
Smoke has been one of my top ways to alter my mood over the last year. If I'm feeling sluggish and need to lift my spirits, I light rosemary which is invigorating and refreshing. If I need calm, insight and reflection, I light sage which brings clarity and removes the energetic clutter around me. If I'm feeling neglected and lonely, I light something warm and sweet like tulsi or rose and it eases the feeling of loss and lack of love.
These are all intuitive experiences and not scripture, but I hope it can serve as inspiration to waste less plants and also create a nice experience around scent and smoke.